Digital Transformation has an interesting history before becoming one of the most talked about buzzwords in the business world today.
You likely have heard it mentioned in your CEO's strategic initiatives. However, what once seemed like lip service for stakeholders and investors has now become a critical part of staying competitive in today's market.
Spending on digital transformation has reached a staggering $1.6 trillion in 2022 and is projected to reach $3.4 trillion in 2026.
That is some serious investment.
But where did the idea of digital transformation come from? Let's first define what it is.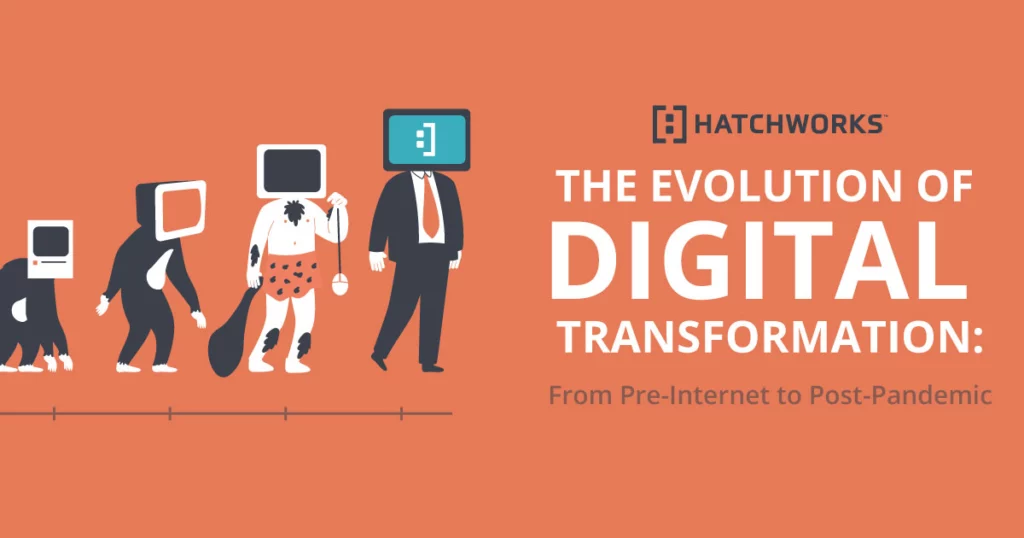 What is digital transformation?
Digital transformation refers to the use of digital technologies to modify or create new business processes, customer experiences, and organizational culture in response to changes in the market and business needs. In some cases, this can lead to complete shifts in business models creating seismic waves throughout an organization.
Now that we have a better understanding of what digital transformation is, let's look at its history and how it has evolved over time.
A brief history of digital transformation
There are four distinct eras in the evolution of digital transformation that has forced companies to adapt how they operate and serve their customers. Those who have been unable to adapt typically go the way of the dodo bird.
Pre-internet Era
1950 – 1989
This is where the foundational building blocks of the digital revolution were created. The invention of microchips and semiconductors enabled manual processes to be converted into digital technologies.
This started the first major digital transformation. Companies focused on shifting outdated processes to digital data. Worldwide, this created a need for business transformation and cultural change.
1958 The microchip and semiconductor were invented
1960 Moore's Law defined
Post-internet Era
1990 – 2006
The next digtal era created massive change. The internet started the shift from a siloed world into a global one. Connection and access to data through the public accessibility of the internet createda more ubiquitous playing field. Personal computers exploded during this era, giving people terminals to the world wide web in their living rooms, and the first social networks began to crop up.
This era drove change in existing processes and business operations with the creation of the internet and increased access to customer data. More importantly, it caused companies to rethink their customer interactions as the internet significantly changed how people interacted, search, and buy.
1990 Internet becomes publicly available
1998 Google founded
2000 Half of US households have a personal computer
2004 Facebook founded
2005 Internet users reach $1 billion worldwide
2006 AWS created
Mobile Era
2007 – 2019
Just when companies were becoming comfortable with the modern internet and its impact on their business, another foundation shift happened with the introduction of the iPhone and the shift to mobile. This opened up a world of possibilities, new business models, and the introduction of new social and mobile channels, which drove another spike in digital transformation.
Marc Andreesen's seminal writing, "Why Software is Eating the World", laid out a clear vision of the future where software would disrupt every industry across the globe, and how new software-centric players would have the upper hand in this new world.
Interestingly enough, this is also around the time when the term "Digital Transformation" was first coined. Now the cycle of change required to stay competitive had a name.
2007 iPhone released giving rise to the mobile revolution
2011 "Why Software is Eating the World" written
2013 The term "Digital Transformation" is coined
Post-Pandemic Era
2020 – Present
The last major era, and the one we are currently in right now, is the post-pandemic era. The pandemic accelerated digital innovations as companies were forced to rethink how they served their customers in a non-contact and remote world.
This ushered in shifts in business models and forced companies to take their digital transformation initiatives from the board room to the front lines with new urgency. This acceleration was the push many companies needed to implement a better customer experience.
Advances in AI and machine learning are playing a huge role in digital transformation initiatives. While the history of AI warrants its own timeline, advances in machine learning and tools like ChatGPT are clearly going to drive even more change in the way we work, interact, and live.
2020 Global Pandemic
2022 Digital Transformation spending at $1.6 trillion
How to approach digital transformation
Each digital era has caused businesses to rethink their internal operations and customer expectations. It has created fertile ground for new market entrants and has shifted, created, and even retired whole business models.
Where businesses get digital transformation wrong is by viewing it as something that can be completed or reach a state of maturity. Instead, digital transformation should be viewed through a lens of continuous development. Something you are always improving and optimizing upon.
However, even if you approach it in this manner, digital transformation is HARD.
Changing processes and replacing existing systems are not for the faint of heart. At HatchWorks, we leverage a proven approach when modernizing digital solutions called MVR (Minimal Viable Replacement). This approach focuses on breaking up the needs of the new system(s) into a clearly defined roadmap. This roadmap focuses on delivering valuable chunks of functionality into the hands of real users as soon as possible with minimal impact on their existing work.
Essentially, an MVR is the culmination of all the MVPs required to migrate existing customers to your new solution with minimal loss of existing customers.
Frequently Asked Questions about Digital Transformation